Metal Roof Replacement in Newcastle
Trust our team with your new metal roof replacement in Newcastle. Our team or roofers are the professionals in all aspects of metal roofing. Our team can transform your old, leaking or rusted metal or zincalume roof into something truly magnificent!
Metal roof replacement Newcastle
Why Metal Roof Replacement in Newcastle?
One of the top qualities of a metal roof is its longevity. Metal roofs are one of the longest performing materials available in the market today. They have a long lifespan and can offer long-lasting protection. They are perfect for Australian homes as they provide reliable weather protection and classic curb appeal. Metal roofs flourish in erratic and harsh environments and can easily resist water damage, impacts, severe wind and are much better than other roofing materials such as tile or concrete.

However, there will come a time when metal roofs reach the end of their useful lifespan, and it needs to be replaced. You may even need replacement much sooner if the roof design causes leaks, has poor efficiency or is installed incorrectly. Severe weather and aging materials can degrade the sturdiest of roofs, and just repairs and periodical roof maintenance may not be able to save your metal roof. In such cases, the only viable solution is to perform a full metal roof replacement in Newcastle.
Do not let a dangerously problematic metal roof can any worse. Metal roof replacement is a cost effective and long-term roofing solution that improves the function of your home and makes it look good too!
Newcastle's Top Rated Metal Roofing Contractors
If you are considering replacing your old metal roof with a modern Colorbond roof, you have landed in the right place. Newcastle Metal Roofing Solutions is one of the best when it comes to metal roof replacement in Newcastle. Our roofers have extensive experience, the right skill sets and the best products and equipment available to them. We use the latest technology and methods to ensure your metal roof replacement is done to high standards.

At Newcastle Metal Roofing Solutions, we take pride in delivering top-notch metal roof replacement in Newcastle and nearby areas. We can replace any type of metal roof, including Galvanized, Zincalume, Colorbond and even Stainless-Steel products. Our experienced team are also specialists in metal roof replacement for different types of structures, such as heritage homes, traditional homes, high rise complexes and others.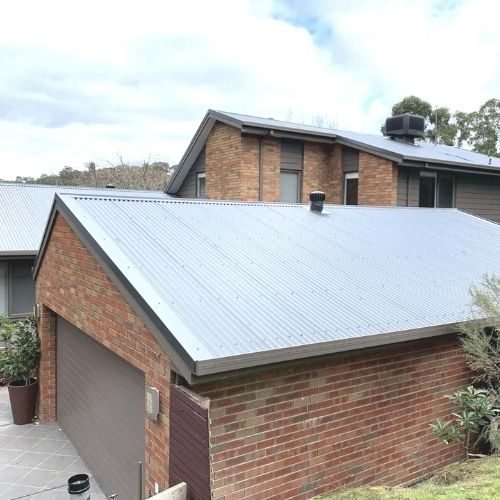 Metal roof replacement Newcastle
Signs You May Require A Metal Roof Replacement in Newcastle
Determining whether your metal roof needs replacement can be difficult. It is why we have outlined some signs that you need to look out for. These warning signs should help you with the different parts to inspect and the things to keep an eye out for.
Rusting Roof, Downpipes and Gutters
Holes or Gaps in the Roof
Moss & Fungus Growth
Rusted Screws or Loose Nails
Holes or Gaps in the Roof
Watermarks on the Ceiling
So, what's next? Your first step should be to organise a roof inspection where the specialists can offer you the best advice. At Newcastle Metal Roofing Solutions, we are more than capable of inspecting and finding out if your house is better off with a new metal roof.
Choose From a Variety of Designs and Colours For Your Metal Roof Replacement in Newcastle
Over the years, we have installed metal roofs on hundreds of homes and commercial spaces in Newcastle. We use Colorbond steel for all our metal roof replacement projects. Colorbond metal roofing materials have come a long way when it comes to style and design but are still known for their sturdiness and aesthetic looks. Today, you can choose from an extensive list of colours and finishes available that can truly make your house stand out. Our roofers will help you pick out a metal roof that matches and reflect the architectural style of your home and your personality.
Metal Roof Replacement in Newcastle That Homeowners Can Trust
At Newcastle Metal Roofing Solutions, we are proud of our proven track record of excellence that ensures we are the best team for metal roof replacement Newcastle. Nothing gives us more satisfaction than seeing our customers happy with our exceptional service. With a great team of knowledgeable roofers, we can deliver any metal roof Newcastle replacement project on time and on budget.
We understand making such as big decision is really tough. After all, your roof is an integral part of your home. So, do not make a decision in haste. Give us a call and discuss your concerns with our experienced roofers. We will be happy to provide you with a no-obligation quote, and our roofers will be ready when you are!
Roof Replacement Newcastle
We offer a wide range of roof replacement services in Newcastle.  Take a look at our most popular ones here.
Call the Best Metal Roofing Contractors in Newcastle
Contact our metal roofing contractors in Newcastle today to book a free roof inspection or to receive a no-obligation quote for roof replacement. One of our friendly roofers will visit your home in Newcastle to assess and provide a quote for a new metal roof.