Asbestos Roof Removal in Newcastle
Asbestos roof removal in Newcastle is a highly risky and monitored task. As a result, only a few licensed and professional roofers can complete the asbestos roof removal and replacement in Newcastle. It is the reason why Newcastle Metal Roofing Solutions treats asbestos roof replacement very seriously!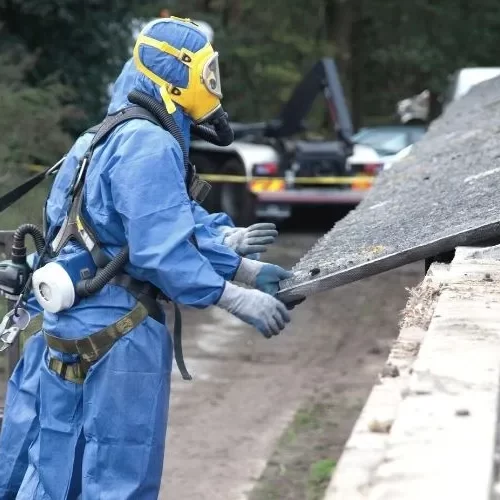 Asbestos Roof Removal Newcastle
Why Choose Us for Asbestos Roof Removal in Newcastle?
Newcastle Metal Roofing Solutions has been replacing asbestos roofs for over two decades and has passed every audit by Government Asbestos Compliance bodies. What sets us apart from other asbestos removal Newcastle companies is that we can look after literally everything – from safely removing the asbestos roof to installing a new metal roof. Our team handle all the steps in the process efficiently, so nothing is ever left to chance.
Our roofers hold the right qualifications and experience, allowing us to offer quality service when it comes to removing asbestos roofs safely and within minimum disruption to your daily lives. We love nothing more than removing every trace of asbestos from your home, replacing it with a new colorbond metal roof, so your home looks brand new!
Asbestos Roof Removal in Newcastle
The asbestos roofing material was quite popular in the 1940s. Asbestos was superior to other available roofing materials available at that time in all senses as it was strong, resistant to weather conditions, fire-resistant and cost effective. Unfortunately, asbestos started to break down and release deadly asbestos fibres into the air over time. These microscopic particles penetrate the lungs and cause a number of serious issues to the homeowners and pets. Once the new information about serious health risks from asbestos was discovered, asbestos roofs were outlawed in 1985.
The risks of using Asbestos are now well known in Australia. Two thirds of homes constructed between World War II and mid 80s still contain asbestos in Newcastle. Currently, every year in Australia around 500 men and 100 women develop mesothelioma, and this is forcasted to increase to 900 new cases a year by 2020.
Why Replace Your Asbestos Roof?
Even though asbestos roofs are banned in Australia, there are a number of homeowners who are complacent about it. If you continue to live in a house with an asbestos roof and the structure is compromised, the occupants will breathe asbestos dust particles. The inhalation of the toxic material can cause serious life-threatening diseases such as cancer, mesothelioma and asbestosis.
A home with an asbestos roof can be hard to sell. People often hire us to provide condition reports on homes and will often not make offers on homes with Asbestos in them. If you live in a historic house with an asbestos roof, not removing the asbestos roof will bring down its resale value. So, when you are ready to sell your home, replacing the roof may expedite and even increase the total sale price of your home.
Living in a house with an asbestos roof will also make home insurance quite expensive. Thus, it is a good time to organize an asbestos roof removal and replacement in Newcastle to save money in the long run.
Asbestos Roof Removal Newcastle
Asbestos Roof Removal in Newcastle – Hire a Professional
Once your roof has been tested for asbestos, and its presence is confirmed, do not risk a DIY project as it requires great care. There are very strict guidelines and enforceable law that governs how asbestos needs to be handled. The site needs to be meticulously controlled, all removed asbestos materials and scraps isolated and then disposed of at a designated waste dump site. Asbestos roof removal is something that should only be handled by licensed roofers with adequate safety equipment.
Newcastle Metal Roofing Solutions is a team of skilled roofers who are highly experienced in asbestos roof removal and replacement while adhering to strict rules and regulations. We will work with you, investigate the premises to identify asbestos material in the roof and develop an asbestos removal plan. In addition, we can also replace your asbestos roof with a much safer and more sturdy metal roof replacement. You can choose from different roofing styles and colours that match the architectural style of your home and your preferences.
Roof Replacement Newcastle
We offer a wide range of roof replacement services in Newcastle.  Take a look at our most popular ones here.
Schedule a Free Inspection if You Require Asbestos Roof Removal in Newcastle
If your home was built before 1978 and you suspect it contains asbestos, we are here to help. Our qualified, licensed and friendly roofers will be happy to discuss any concerns you might have with the safe and reliable removal of your asbestos roofing. When it comes to asbestos removal Newcastle, the safety of everyone involved is of utmost importance every step of the way. Once the removed asbestos has been removed, we will install a brand-new metal roof that will have added value to the property.
Stop worrying about your asbestos roof and get it replaced! Newcastle Metal Roofing Solutions can come to you – no matter where you are in Newcaslte. Give us a call to arrange a free inspection and a no-obligation quote.