Insurance Roof Replacement in Newcastle
Newcastle Metal Roofing Solutions gives you the peace of mind you deserve. We have worked with hundreds of homeowners in Newcastle, helping them through the entire insurance claim process and then replacing their damaged roofs to the highest standards. Our team can replace any type of roofing structure and its coverings, including tiles, asbestos, or metal. We only offer the highest quality materials, which are unrivalled when it comes to quality and looks. We want nothing but the very best for you, so let us help you with your insurance roof replacement in Newcastle!
Hail Damage Roof Replacement in Newcastle
Insurance Roof Replacement in Newcastle
Hail damage is one of the most destructive weather elements that can cause havoc to your property in Newcastle, leaving it needing extensive repairs. Small and large hail can cause serious and costly damage to your roof. The amount of damage hail storm inflicts will vary greatly depending on the size and density of hailstones, the wind speed and the roofing material. If your roof is new and well-maintained, it will be less susceptible to damage, while old and weathered roofs will be more vulnerable requiring a claim for insurance roof replacement in Newcastle.
Your best bet to identify hail damage is to call a professional roofing company. Professional roofers can identify small signs and assess if they are a result of hail damage. They can also tell you the extent of damage suffered and provide you with the best solution to the problem. Remember, any undetected problem will only worsen and will become costlier to fix as time goes by. If the damage is extensive, you may be able to make a hail roof insurance claim and opt for a complete roof replacement. But you need to find a roofing contractor who can work with your insurance company.

Fortunately, our team are experts in this field and are here to assist. So why not arrange a free quote today?
Insurance roof replacement Newcastle
How to Spot Roof Hail Damage on Your Roof?
Spotting hail damage on your roof can be tricky. How your roof absorbs, and the impact will depend on the material, the age and the condition of your roof. It is critical to look at different impact effects to determine if your roof has sustained hail damage.
If you have tiles on the roof, inspect the ends and the tiles for cracks or other damages. Look for cracks, chipped tiles and sagging on the roof. Also, keep an eye for lost pieces of tile on the roof. Check the ridge cap for dents that are most likely to sustain damage to metal roofs. Also, check the vents, sunlights, flashings and metal valleys for any dents.
For your insurance company to approve and pay for hail damage insurance roof replacement in Newcastle, they will need an accurate assessment to take place. Our experienced roofing contractor can carry out the necessary assessment to the satisfaction of your insurance company.
Colorbond outperforms tiles in every possible way, and it is no surprise why so many homeowners opt for tile to metal roof replacement in Newcastle once their claim is approved!
Get a Roof Inspection Report for Your Insurance Roof Replacement in Newcastle
If you notice extensive damage to your roof due to hailstorms or fallen trees, replacing it is the best option for you than regular repairs. The first step in the insurance roof replacement in Newcastle process is to inspect your roof and provide a report which includes:
Age and condition of the roof
Documentation of damage
Photos and videos of the damage
An explanation of why replacement is necessary
We aim to send complete information to you and your insurance company, ensuring things proceed smoothly and without any complications.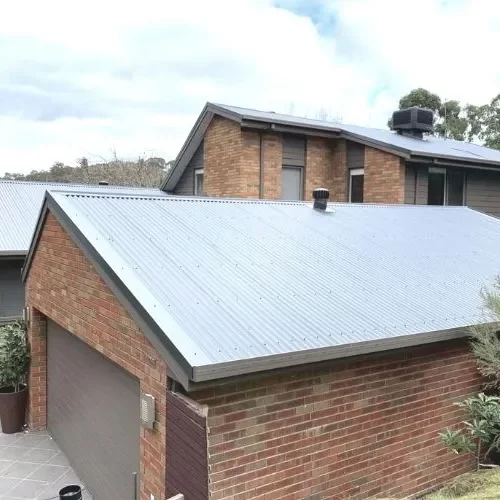 Hail Damaged Insurance Roof Replacement Newcastle
Decades of Insurance Roof Replacement Experience
Just like you replace an old oven when it does not function properly, you will reach a point where roof replacement should be considered. Hail damage and deterioration due to the weather in Newcastle can result in you eventually needing a roof replacement. Replacing your hail damaged roof becomes more economical rather than paying for constant repairs.
Newcastle Metal Roofing Solutions has years of experience removing damaged roofs and replacing them with Colorbond roofs. We guarantee you will get a first-class long-term solution that will help save you money for the future and also give your home a much-needed facelift.
Roof Replacement Newcastle
We offer a wide range of roof replacement services in Newcastle.  Take a look at our most popular ones here.
Call the Best Business For Insurance Roof Replacement in Newcastle
Any time you notice damage to your roof after a storm, contact us immediately. The longer you delay, the more damage and money it will cost you. Dealing with the problem in a timely manner will ensure the interiors of your property are not damaged.
If you have any questions about hail damage insurance roof replacement in Newcastle, give us a call today! We would be happy to discuss your options and work out the best possible solution.