The Most Reliable Roof Replacement in Newcastle
Newcastle Metal Roofing Solutions is one of the leading roofing companies in Newcastle, New South Wales. We have been in business for decades. Our highly experienced and committed team are ready to handle any scope of roof replacement you may require. Furthermore, we aim to save you money and stress with our superior re roofing options. We offer free quotations and provide extended warranties on all work and products used. There has never been a better time for a roof replacement in Newcastle than now!
Our Most Requested Roof Replacement Services
With a team of expert roofers and a passion for quality, Newcastle Metal Roofing Solutions is the first choice for roof replacement of all aspects. We have the skills and the resources to get your roof back into the peak condition and keep it there for many years to come. Our team has worked on all kinds of roof replacement projects for both residential and commercial properties.
We are with you every step of the way, no matter what roofing project you may have in mind.
Whether you are tired of the high cost of maintenance to your tile roof, want to increase the insulation rating of your roof or considering a new modern look, it's time to upgrade to a metal roof. Our experts can remove the existing tiles and replace them with metal roofing. Our tile roof conversions are built to last for years.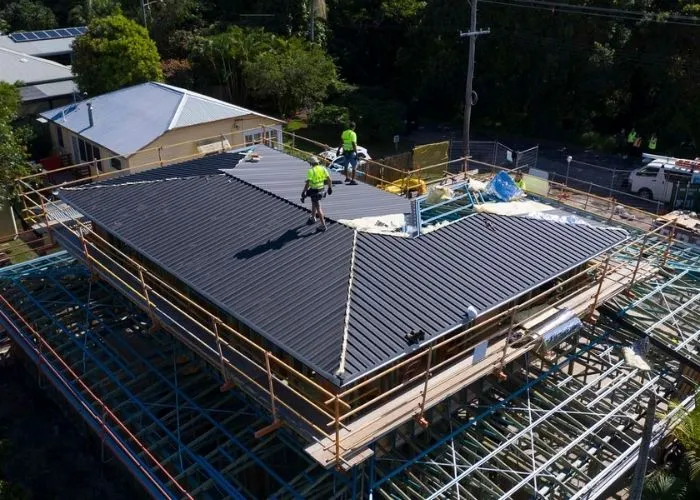 Your house is your most valuable asset, and it needs a strong metal roof that will offer protection from the weather for decades and look great while doing it. We can remove your old and worn-out corrugated metal roof and replace it with a new thermally efficient metal roof.
Unfortunately, asbestos is dangerous, and an asbestos roof should be avoided at all costs. Since asbestos roofs can expel dangerous toxins, it is best to have them replaced. All asbestos removal work is done with utmost safety and to the highest standards. Following the safe removal, we replace the roof to increase the safety of the roof and the value of your home.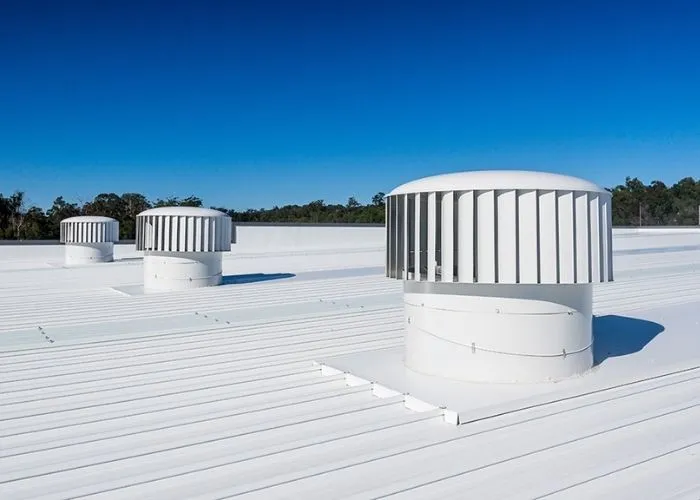 Commercial roofing is quite complex. The good news is that we provide an abundance of commercial roof replacement services to help you through the entire process. Our roofing team can help you keep up to date with the latest industry trend and install a new roofing system that is energy-efficient, sustainable, and backed by a long-term warranty.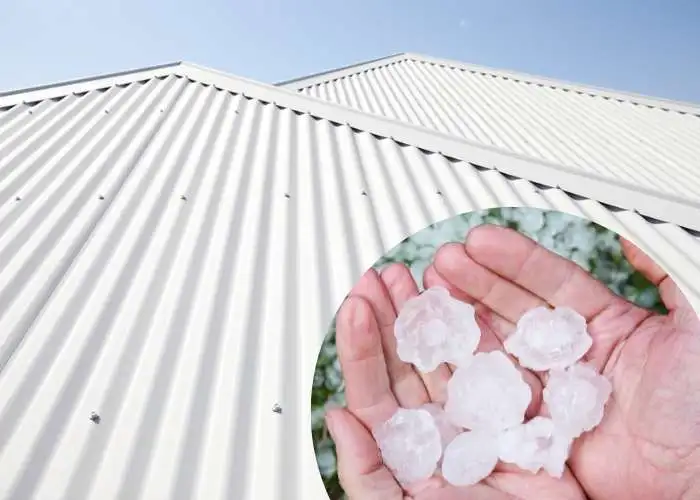 The sound of hail pounding on your roof can be scary. Once the storm clears, you may find something that most homeowners dread – roof damage. If your roof starts to leak or shows signs of extensive damage due to the weather, roof replacement is a good call after hail damage. We not only help with insurance claims but replace your hail-damaged roof, so you never have to worry about it.
Experts in Colorbond Roof Replacement in Newcastle
Colorbond roofing is becoming increasingly popular and is trusted by Australians everywhere as their top choice for roofing material. As light reinforced steel, it looks stylish, has fantastic insulation properties, and boasts low maintenance.
At Newcastle Metal Roofing Solutions – Roof Replacement & Reroofs, we specialise in offering a complete range of Colorbond roofing options to impart a modern look to your home. With its superior performance and flawless finish, there is no reason for you to look at any other roofing material. Our team of roofing experts will provide you with the best service, advice, and competitive pricing.
Roof Replacement Newcastle
Why Do We Recommend Picking Colorbond Over Tiles for Roof Replacement?
Our Colorbond roofing Newcastle services have many advantages over traditional tiled roofs. It is the perfect material for those looking for roof replacement in Newcastle and to add flair to their homes. Some of the major advantages of Colorbond roofing include –
Choose from over 20 different colours to suit your home's existing design.
Due to its right structure and reflective quality, Colorbond heats up less during the summers and lets out less heat during the winters, making it perfect for the Australian weather.
When taken care of properly, Colorbond lasts for decades and rarely requires maintenance when installed properly.
The light structure of Colorbond puts less strain on your home's foundation, making it perfect for older houses.
Colorbond can offer better protection against Australian weather and saves your home from damage against thunderstorms, hail, and strong winds.
Increase Value Of Your Property
Installing a new roof on your home or commercial property can seem like a big expense, but reroofing your property can significantly incease it's value.
Roof Replacement Newcastle
Hopefully, you agree that professional service, transparent pricing, and friendly tradesmen are expected when hiring any roof replacement company. To give your home a revamped roof, our experts can work with you and your budget to make sure your roofing replacement project is a success with Colorbond roofing.
Roof Replacement Newcastle
Why Get A Roof Replacement in Newcastle?
The roof is the most integral part of any structure. It needs regular maintenance to save your property from natural hazards such as hailstorms, wind, sun, and rain. The walls of your property provide physical security, but a roof protects the entire structure. It also protects the inhabitants from all external factors, including natural ones. Over a period of time, the roof of any structure, whether commercial or residential, will go through a cycle of wear and tear. When these are identified at the right time, it can help you avoid large-scale damage by getting them repaired. However, in most extreme conditions where a roof has undergone major damage that has been neglected for some time, a roof replacement in Newcastle is the best way to solve recurring roofing problems once and for all.
Hire a professional Roofing Contractor for replacement of your roof
When it comes to minor roof repairs and maintenance, people can do it on their own or simply hire a handyman. Tasks such as sealing the leaks or replacing the gutters will help preserve the life of your roof and help maintain its quality. But, for demanding projects such as a full roof replacement, they often postpone or overlook it. But that's a mistake. 
A re roof of any home or commercial space should be handled only by professionals. If you want to replace your new existing roof with a new one, why not give the best roofing contractors in Newcastle a call today!
What Our Customers Say About Us
Newcastle Metal Roofing Solutions started working with me to do a full roof replacement. They acted quickly, were knowledgeable, and with my budget always in mind. We now have a brand new roof thanks to them and their very professional and efficient team! I recommend anyone questioning who to go with! 🏠💯
Jason and his team of Nathan and Jake were excellent to deal with from the quote through to the completed job. I had roof replacement, ventilation and new guttering installed. The quote was very reasonable and the quality of the work was fantastic. I found them to be professional and the team of Nathan and Jake were courteous, respectful and very helpful on site. Highly recommended.
A really good experience. The inspection was thorough and gave me suggested roof replacement and an explanation of why they were needed. The estimate was prompt, and a fair price. The repair crew arrived on time, did the work, and cleaned up after themselves. They kept me apprised of their progress and were friendly and professional. Will definitely use them again if roof work is needed.
Need To Replace Your Roof?
Roof Replacement in Newcastle
When faced with a damaged roof, failure to act quickly can put your home at serious risk. Worse yet, it can put your family or employees' health at risk. So, do not delay calling a roofing expert in Newcastle.

Newcastle Metal Roofing Solutions delivers a complete range of residential and commercial roof replacement in Newcastle services. With over three decades of experience under our belts, we can handle practically any roof replacement and build your roof with incredible results.
We take all our projects seriously because we genuinely care about every home and business in Newcastle. Roof replacement is an investment, and we work hard to ensure it lasts for a very long time. If you need your roof to be replaced professionally within time and budget, give our experts a call today. There's No Obligation! Simply pick up the phone to speak to our friendly yet professional roof replacement specialists.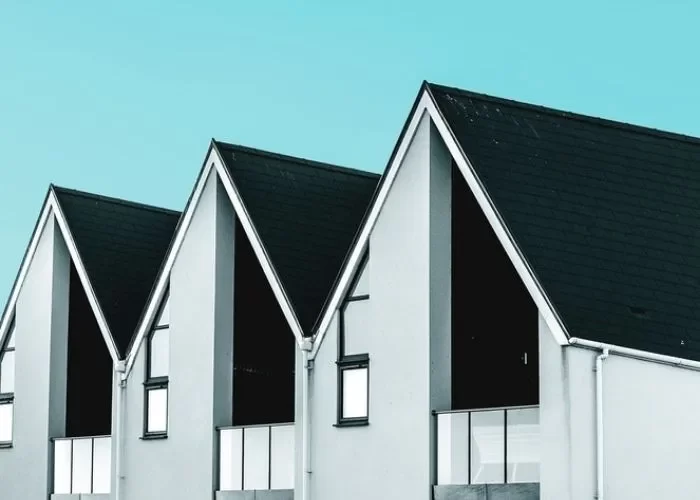 We're here to help! Call Us Today!
FAQs About Roof Replacement
Roof replacement is one of the best things you do to increase the value of your home – but you may have questions about the entire process. Fortunately, we are here to answer all your questions and bring our expertise and experience with our roof replacement in Newcastle FAQs:
Our Locations Around Newcastle
Our team service the entire Newcastle region for Roof Replacement Services, however here are a few of our main service locations
Our Latest Roof Replacement Newcastle Blog Articles
How much does a roof replacement cost in Newcastle? It is typically the first question that comes to mind when a homeowner realises that their …
Still Have Questions About Roof Replacement in Newcastle?
Contact our experts at Newcastle Metal Roofing Solutions. Learn more about our roof replacement services, exciting offers, or request an estimate. Furthermore, we will help you navigate through the ins and outs of re roofing to help you get the best roof for your needs.